The Art of Wooden Block Printing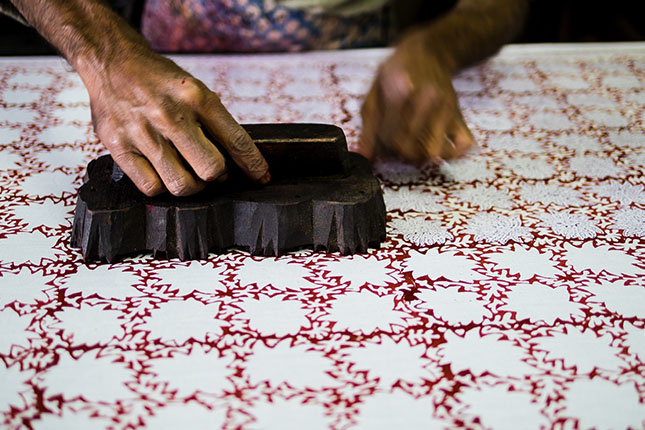 The art of Wooden  Block Printing is a printing technique or process that has survived somehow from ancient times to the present. There have been claims by several countries having block printing originated/developed in their country but several pieces of evidence have been found in India from ruins of ancient civilizations which date back thousand years. For Example Scraps of clothing found in the ruins of Mohenjo Daro, provide evidence that block printing was practiced in India in 3000 BCE.
Since the 12th century the art of Wooden Block Printing has flourished. The artistry flourished further with the receivable of royal patronage. Rajasthan and Surat in Gujarat became the important trading centers of printed textiles particularly in Block Print art. Today Wooden Block Printing has gained new height by reaching in the different corners of the world.
Wooden block printing is a typical process and takes time. The printers use several wooden printing blocks to complete a design. The process of block printing begins with the wooden printing blocks. Woodcarvers carve designs into wood planks/blocks. The top of the wooden printing block has a handle for the printers to hold it.
The next step in the process is the arrangement of the fabric. Workers stretch several layers of jute fabric over a long rectangular table. The jute serves as a pad to provide resiliency to the printing surface.
Printing is done from left to right. When the printer dips the printing block into the dye/color then presses it onto the fabric, the printer also slams the back of the printing block hard with the fist to create a clear impression. Then the printer moves the printing block to the next portion of fabric to be colored. As they work, the printers pull a wooden cart bearing their printing blocks along with them. The wooden printing blocks can be interchanged from one piece of fabric to another, creating different patterns. Custom designs and different colors can be used from one fabric to another, creating still more individual work.
Each color of a design is done by a different printer, coming behind the one before and repeating the process. The process requires teamwork, as each subsequent printer must place the block accurately to create a beautiful, whole pattern.
Once the pattern is finished on the whole length of fabric, the piece is treated to fix the dyes. This process of block printing has been used for centuries and is still in practice.
If you wish to try hands-on block printing you can buy wooden printing blocks at https://www.rrprintingtools.com/shop/
Some quick links from our collection

Floral Designs                                    Repeat Patterns                                     Bird's Pattern                                     Assorted Designs