Block printing is one of the traditional art techniques of printing which has its roots in ancient India. And Wooden Printing block is a creative mode of printing beautiful patterns, designs, and colors on the surface wherein the image or motif is traced and carved on the block by a craftsman.
The Origin Of Wooden Block Printing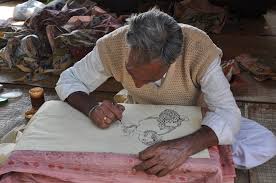 Block Printing has its origins in India several years ago! In ancients times, there was no source for vivid colors, designs, and patterns and hence, our distinctive craftsmen used natural dyes(mineral and vegetable dyes) and created wonderful patterns in form of wooden printing blocks.
With the advent of time and technology, this ancient technique started spreading widespread in Northern India, and now almost 80% of Indian houses have some or the other thing which has block print on it. Be it on bedsheets, pillow covers, table cloth, lamps; these block printing designs leave a mark on the viewers' eyes.
How to Create Wooden Printing Blocks
The best part about this technique of block printing is, it is completely eco-friendly and has no damaging effects on fabric or canvas. They do not require any artificial substance, and hence it is counted as one of the purest forms of handmade crafts.
Sheesham wood is used for making wooden printing bocks which is entirely nature's gift and therefore has no harmful effects.
The first step is to draw the motif on woodblock/plank.
Once the design has been approved and ready for carving, a wooden block/plank is prepared by hand sanding and then coating the surface with a white paste so that the surface is uniform and smooth for imprinting design on it. Then the design is printed on the block to carve.
Carvers then tap out the empty space from the woodblock so that the design remains along the printing surface. This is done by hand using very small chisels.
It is a labor-intensive process that requires skill, experience, and patience. The completed blocks are checked for accuracy and soaked in oil to cure the wood so it doesn't crack and enhance its life, and are then ready for use in printing. The result? Beautiful textiles for a living!
If you wish to try hands-on block printing you can buy wooden printing blocks at https://www.rrprintingtools.com/shop/
Quick Links:
Floral Designs Birds Pattern Assorted Designs Christmas Designs