Buy High Quality Wooden Printing Blocks at RR Printing Tools
Welcome to RR Printing Tools, your ultimate destination to buy the best quality wooden printing blocks with latest designs of 2023.
Our exquisite collection showcases a harmonious blend of craftsmanship and creativity, meticulously handcrafted to bring your artistic visions to life. With a rich legacy in the art of printing, we take immense pride in offering a diverse range of wooden printing blocks that cater to both traditional and contemporary designs. Our commitment to quality is unwavering, as each block is carved from premium wood, ensuring durability and intricate detailing with every impression. Whether you're a seasoned artist, a DIY enthusiast, or a professional crafter, our wooden printing blocks unlock a world of possibilities to embellish fabrics, paper, and various surfaces with captivating patterns. Elevate your creative ventures with the timeless elegance of wooden printing blocks, available at RR Printing Tools.
We Sell Best Blocks for Block Printing
Our whole range of wooden printing blocks are crafted by well-skilled craftsmen in India using only high-quality Sheesham Wood. We train and assess our craftsmen regularly to maintain the quality of work.
To ensure quality, the tools we use, to make our products are the latest and well-maintained to preserve their effectiveness.
We do not engage in any cost-cutting activity to bring down the cost of our products we make use of the latest tools and efficient workers to keep the prices of our products low.
Our Wooden Printing Blocks are completely Eco-friendly and easy to use. Printing with these has no damaging effects on fabric or canvas. They do not require any artificial substance and are one of the purest forms of handmade crafts. When used with natural colors to print on fabric or paper, the results are jaw-dropping and prints become permanent without carrying any harmful chemicals.
We use Sheesham wood for making our wooden printing blocks which is highly durable and entirely nature's gift, and therefore has no harmful effects.
We also make sure that all wood we utilize to make our products is legally acquired from government depots with complete transparency, thus not causing any harm to our Eco-system.
Please feel free to contact us and learn more about our product range. Or If you are looking for Custom Wooden Printing Blocks made with your designs then feel free to click on this link.
 We have also included some FAQs near the bottom of the page related to printing and our products.
Buy Wooden Printing Blocks at Discounted Price
Discover the charm of traditional printing with our wooden printing blocks at discounted prices. At RR Printing Tools, we offer a curated selection of high-quality wooden blocks for all your artistic endeavors. Whether you're a seasoned crafter or a beginner, our discounted wooden printing blocks provide a gateway to intricate and captivating designs on various surfaces. Craft stunning patterns on fabrics, paper, and more with these timeless tools that blend craftsmanship with affordability. Elevate your creativity and shop for wooden printing blocks on sale today, only at RR Printing Tools. Unleash your imagination while saving on cost!
Get 10% Discount
On Order Above
100 USD
Get Freebies of Worth 10 USD
Place an Order of 150 USD or Above, and get 10% Dis. + Freebies Worth 10 USD
(Freebies include Indian Handmade Khadi Fabric Also)
Mention the SKU IDs in the Notes at the time of checkout, and we will add your freebies to the parcel.
Please Note: The order Value of 150 USD doesn't include the shipping fee
Buy/Shop from our wide variety of Wooden Printing Blocks
Discover the ultimate collection of wooden printing blocks when you buy/shop from us. Our diverse range showcases intricate designs and exceptional craftsmanship that add a touch of elegance to your creative projects. These wooden printing blocks are not just tools; they're a testament to tradition and innovation combined. Explore a wide array of patterns and sizes, perfect for expressing your artistic vision on various surfaces. From fabric to paper, unleash your creativity with these versatile blocks. Shopping with us ensures access to high-quality materials that resonate with both beginners and experienced artists. Each wooden printing block narrates a story of authenticity and uniqueness, making your every creation truly special. Elevate your artistry with our exceptional selection – a testament to our commitment to providing the best. Choose us to buy/shop wooden printing blocks and unlock a world of artistic possibilities.
Why RR Printing Tools is a Popular Seller of Wooden Printing Blocks?
Wooden printing blocks of RR Printing Tools are a popular choice for printers and artists due to several reasons:
Durability:
Our Wooden printing blocks are durable and can withstand the repeated pressure of printing.  These can be used for many years and are easy to clean and reusable.
Versatility:
Our Wooden printing blocks can be used for a variety of printing applications, making them versatile tools for printers and artists. These blocks can be used for block printing on fabric, and paper-craft and can be used in clay art as well.
High-quality prints:
Since we make our wooden printing blocks with the best tools in class and our workers are well-trained and skilled, it makes our products produce high-quality prints with crisp, clear images and sharp text.
Customization:
We offer the service of customization of Wooden Printing Blocks as per the requirement of artists/printers and hobbyists to fit their specific needs by carving a specific design or image on the wood blocks. Our service of customization makes us the first choice of our buyers.
How we make Best in Class Wooden Printing Blocks?
We make the best Wooden Printing Blocks in the market and we are famous for our quality products. We make our blocks only with Sheesham wood (Dalbergia Sisso) which is famous for its robust strength and durability. Wooden Printing Blocks are made with other woods as well but they do not possess durability like Sheesham Wood, so we make use of only Sheesham Wood.
To make wooden printing blocks, the wood is carved by hand using chisels and thapi. Its manufacturing is time time-consuming process and involves several steps:
Selection and Preparation of Design:
The very first step is to draw the design/motif on butter paper. Butter paper is transparent and is suitable for transferring the design onto the wood. So we draw motif/design on a butter paper and apply some mustard oil on the other side of the paper to make it more transparent.
Selection of Woodblock:
We pull out a suitable wood block from our stock of wood matching with the size of the design.
We keep huge stocks of wood blocks suitable for making wooden printing blocks. These wood blocks are cut in round shape and we store them in a dry store room with proper ventilation. We ensure proper ventilation to dry the wood blocks because drying wood blocks is an essential part of this whole process otherwise wooden printing blocks made with undried wood blocks will deform with time. 
Planing and Sanding Wood Block:
Once we have the suitable wood block handy, we do planing and then hand sand the wood block surface to make it smooth and even. To make a good wooden printing block, it's important to have a smooth and even surface on the wood block. 
Coating with the white paste:
After hand sanding, the surface of the woodblock is coated with a white paste so that the surface becomes bright and the design can be imprinted on it for carving.
Tracing/Imprinting Design on Wood Block:
The fifth step includes tracing the design from butter paper to the wood block. In this step, we place the butter inverted on the woodblock and fix it with two nails on the corners of the butter paper. Then with a sharp chisel tool(pointy like a needle), we start tapping along the lines of the design on butter paper, leaving fine markings underneath on the wood block. After the tapping is done all along the design, we pull the butter leaving the impression/tracing of the whole design on the wood block.
Carving:
Carvers now start carving wood blocks with small chisels and thapi. Thapi is also made of wood because every time he hits on the chisel, it should be a soft hit. In the carving process, carvers tap out the empty space from the wood block so that the design remains along the printing surface. It is a lengthy process and is impossible without skill, experience, and patience.
Oiling and Checking:
The final step includes checking the blocks for accuracy. If the blocks made are accurate then they are fitted with handles to use and soaked in oil to enhance the life and strength of the wood so it doesn't crack when used with inks and dyes.
We are passionate about bringing you the highest quality wooden printing blocks for crafting and printing projects. Not only do we offer a wide selection of blocks, but we also have all the supplies you need to get started on your project. Whether you are a beginner or an experienced crafter and printer, we have the perfect wooden printing block for you. At RR Printing Tools, we understand that quality matters when it comes to crafting projects. That is why we only source the best wood and materials for our wooden printing blocks. All of our blocks are handcrafted with care to ensure that they are both durable and beautiful. We also offer custom blocks to make sure you get the exact look you want for your project. We have a wide variety of wooden printing blocks for all types of projects. From large blocks for printing posters to small blocks for making personalized stamps, you are sure to find the perfect wood block for your project. We also offer a selection of accessories and supplies, such as inks, fabric and foam mats etc, to help you get started. RR Printing Tools is the perfect place to find the perfect wooden printing block for your project. We offer a wide selection of quality blocks and all the supplies you need.
On our website, you can buy from our huge range of wooden printing blocks at the best prices as well as you can also find technical and historical information, through our blogs, about traditional block printing art which is several centuries-old art techniques of printing.
You can also keep track of our latest designs and ideas by following our Instagram page.
We offer all types of Wooden Printing Blocks in different sizes
We offer wooden printing blocks in all sizes and varieties:
Wooden Printing Blocks in small sizes (1 to 10 cm):


These blocks are usually in sizes of 1 to 10 cm and are mostly used for hobby printing. You can easily use them to print small upholstery, cushions, tablecloths, etc. The biggest advantage of these wooden printing blocks is that they are easy to use and do not require any special setup to start with printing. You just need a foam mat, some ink, dabbers, and wooden printing blocks to start printing at your home.

Wooden Printing Blocks in sizes of 6 inches and larger:

These Wooden Printing Blocks are usually made in the size of 6 inches or more and are used to print fabrics in yardage.

Customized Wooden Printing Blocks:

We offer wooden printing blocks with customization. If you want to buy wooden printing blocks in your design, then you can share your design with us we will custom carve them on wood.

Customers who want their patterns and designs carved on woodblocks can now reach us and try out their own customized/custom-carved wooden printing blocks. Submit your ideas, and we'll custom-carve them on woodblocks that meet your requirements.

We also supply wooden printing blocks in bulk/large quantities: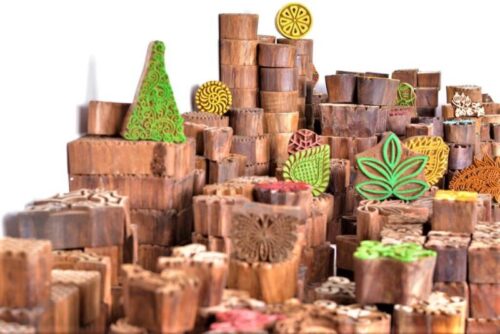 You can also contact us if you are a retailer or wholesaler looking forward to buying large wooden printing blocks. We manufacture them in-house and you can also share your catalogs to buy on an order basis.
Check our new collection Indian Fabrics
We added a new range of Indian Fabrics. Check through our collection of Organic Fabric, Khadi and what not.
You can also contact us directly if you are looking forward to buy fabric in large quantities whether printed or white fabric.

Order for Custom Block Printing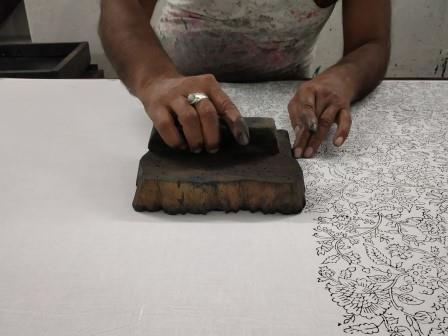 With Custom Block Printing Service at RR Printing Tools, customers can get fabric printed with designs of their own choice.
This service is available for all customers, whether looking forward to buy block-printed fabric in large quantities or just for sampling.
What are Wooden Printing Blocks? Importance and Role
The woodblock or wooden printing block is a type of relief or stamp that works on the idea of cutting out areas of the image that will not be printed. And this technique of printing is known as block printing. Colors are applied onto the elevated regions, similar to relief or stamp, and then pressed or stamped upon a piece of paper/fabric with force, in which the reliefs are printed on that surface reversed. Sheesham Wood is employed in making wooden printing blocks because they provide realistic, rich sketches and are easier to cut.
Wooden printing blocks have a long and fascinating history dating back to the early days of printing. From the creation of books, posters, and advertisements to the creation of intricate patterns and designs on fabric and paper, wooden printing blocks have been an essential tool for printers for centuries. In this guide, we'll look at the history of wooden printing blocks, their various uses, and why they continue to be popular for printers today.
History of Wooden Printing Blocks
Wooden printing blocks have a long and rich history that can be traced back to the 15th century when the printing press was first invented. The first wooden printing blocks were carved by hand and used to print images and text on paper. As printing technology advanced, so did the method of creating wooden printing blocks. The introduction of photogravure in the 19th century allowed printers to create high-quality wooden printing blocks using photographs, making printing more precise and accurate.
Pieces of evidence and Foot Prints of Wooden Printing Blocks in history:
220 A.D.

The earliest examples of block printing are from China dating back to 220 A.D.

12th Century, Europe

Textile printing entered Europe, via the Islamic world, in about the 12th century.

1519

Peru, Chile, and the Aztecs of Mexico also practiced textile printing in 1519, before the Spanish Invasion.

1630 to 1660

In the 1630s, the East India Company bought and sold printed and plain cotton for the English market. But by the 1660s British printers and dyers started making their own printed cotton to sell at home more to the taste of the British.

17th Century


During the latter half of the 17th century, the French brought directly by sea, from their colonies on the east coast of India, samples of Indian blue and white resist prints, and particulars of the process of printing, by which they started producing washable fabrics.

17th and 18th century

In the late 17th century and the early 18th new dye work started in France, Germany, Switzerland, and Austria. In 1738 calico printing was first, practiced in Scotland. In 1764 the first print-work was established in Lancashire, and thus laid the foundation of the industry.

19th to 20th century

During this time, most of the pioneering work was done by the French. The productions of the French printers in Jouy, Beauvais, Rouen, and Alsace-Lorraine, were looked upon as the best.
Today, wooden printing blocks are still widely used and are an essential tool for printers, artists, and designers. They are popular due to their versatility, durability, and ability to produce high-quality prints.
Usage of Wooden Printing Blocks
'Wooden printing blocks' are used for various printing and craft projects. Here are the details of some of the printing and art projects for which you can use our products:
Fabric Printing:

Wooden printing blocks are commonly used to print intricate designs and patterns on fabric, such as for making batik, block-printed fabrics, and garments. You can use our wooden printing blocks for printing cushion covers, curtains, table covers/runners, lampshades, teabags, and whatnot. If you love decorating your home with self-made products or DIY products, then you can count on our products. It depends on how well you decorate your home and how far you can push your creativity. We assure you that our products will never let you down at any point in your DIY projects.

Clay Art:

Clay art is an old style of creating pottery for home use and decoration. If you do or enjoy clay art or pottery, then you can find a lot from our product range suitable for your projects. Whether you want to transfer designs onto dishes, pots, tiles, etc.., made out of clay you can use our wooden printing blocks seamlessly. These are so well carved that when you press the design on clay the impression you get is obvious and clean. We highly recommend using smaller blocks for clay art as they give you more liberty for creating various patterns.

Paper Craft:

Wooden printing blocks can be used to print images and text on paper, such as for creating books, posters, and advertisements. With paper, pair of scissors, and wooden printing blocks, you can make so many crafts like kid crafts, beautiful centerpieces, wall art for your home, party decor for birthdays, bridal showers, invitation cards, etc. Paper is also a most diverse crafting material like our products, and there is a lot you can do with it.

Other Forms of Art & Craft:

There's a lot more you do with products- like decorating walls with wooden printing blocks or printing with them on walls. Or you also use them as centerpieces. There is no limitation on the usage of our products; it depends on you and how you utilize these.

Traditional/Conventional Use of Wooden Printing Blocks:

Some of the old or traditional use are Sanganeri and Bagru Block Printing, Bagh Block Printing, Ajrak Block Printing, Dabu Block Printing, and Batik Printing.

Decorative printing:




Wooden printing blocks can also be used for decorative purposes, such as for printing images and designs on paper goods, stationery, and other items.

Stamping:




Wooden printing blocks can also be used as stamps, such as for creating custom stationery or scrapbooking items.
Guide to Print with Wooden Printing Blocks at Home
If you love crafting at home and want to do DIY Printing at your home, then you can use our wooden printing blocks to print your fabric, cushions, t-shirts, etc. These are super easy to use and you do need not to be an expert or enroll in any course.
Just head over to our shop page and get the varied forms of wooden printing blocks, some dye, foam mats, and sponges. Once you have all these products handy, you can print designs on any fabric or paper.
The traditional block printing technique is very difficult and time-consuming and is done only with large wooden printing blocks. It requires a huge setup or arrangement.
In this guide, we will teach you to block print using our small wooden printing blocks. These are specially designed and made to do DIY or hobby block printing at home. These are way easier to use and cost-effective.
Steps to block print with our wooden printing blocks:
Spread a foam mat on an even table. The thickness of the foam mat should be 4-5 mm. The thicker foam mat won't let you print nicely. Or you can also spread 5-6 layers of old cotton fabric on the table if you don't have any foam mat. You can also iron it to make it even.
Take out some ink and spread it all over in a color palette or regular kitchen plate evenly.
Use a sponge/foam dabber to apply ink on the wooden printing block. While applying ink, make sure that it spreads evenly on the raised design and is fully covered. Also, make sure the wooden printing block isn't over-inked or you could lose some of the fine details of your design when printing.
Now stamp the inked design face down firmly and evenly onto fabric or paper. Then, pull it straight up.
Repeat steps as desired to complete the pattern. If you're using traditional block printing ink, let it dry for 24 hours before using it.
Guide to Choose Right Wooden Printing Blocks For Your Printing Projects
The perfect wooden printing block is one that not only prints well but also gives a wholesome and harmonious feeling when used to create a pattern.
Are you looking to buy wooden printing near me? At RR Printing Tools, we have a great collection of the best wooden printing blocks online. From floral patterns and traditional designs, we have all that you need to accomplish your printing project.
By Material:


The material used to make wooden printing blocks is wood. Wood is one of the most important features you cannot afford to overlook. Your choice of wood matters a lot if you want to create great patterns. Wooden Printing Blocks are made with various kinds of wood but Sheesham wood is best suited. Sheesham wood possesses all the qualities to make a high-quality wooden printing block, its heavy/dense and its termite proof thus making it last for decades.

By Colours/Patterns:

Before you make a purchase, create a mood board for your printing project. At the end of the day, you would want your prints/patterns to be in harmony with bright colors and not an eyesore. A two-color wooden printing block set can help make any surface more vibrant. These are also great if you're having trouble choosing a primary color for your color scheme.
If you're someone who likes their prints/patterns minimal and elegant, printing on a white surface would be a great idea. It will not only add a touch of softness to the surface but can also be used in contrast to the bold colors of the surroundings.

By Size:


We noticed a lot of customers spend a lot of time scrolling through the web to find the right designs of wooden printing blocks and end up wasting a lot of time in confusion. Wooden Printing Blocks come in all shapes, designs, and sizes. While some people prefer floral designs to fit just right, others like geometrical designs. Therefore, before you buy wooden printing blocks online, it is important to decide your design mood. We encourage all our patrons to create a mood board before making any purchases. Whether you are looking for floral wooden printing blocks, geometrical wooden printing blocks, or Indian Wooden Printing Blocks, RR Printing Tools has wooden printing blocks for all.

Sets of Wooden Printing Blocks:


If you want to avoid the hassle of creating a mood board and endless scrolling through the web to buy wooden printing blocks for your printing project, go for one of our 'sets of wooden printing blocks.' All the designs in the sets are of the same matching/design idea thus helping to create a harmonic look on the surface. We guarantee that with our sets of wooden printing blocks, all you would want is to print and create incredible patterns.
Conclusion
Wooden printing blocks have a rich history and continue to be a popular choice for printers and artists today. Their versatility, durability, and ability to produce high-quality prints make them a valuable tool for a variety of printing applications. Whether used for printing textiles, paper goods, or decorative stamps, wooden printing blocks are a versatile and essential tool for printers and artists alike.
EXPLORE NEW ARRIVALS of 2023 Collection
Hello Printers! Looking to upgrade your collection of wooden printing blocks with the newest, freshest trends of design? With New Year, comes our collection of trendy new arrivals that consists of all the styles you need to take you from beginner to expert. You can always count on us to come through with latest designs that will up your printing projects.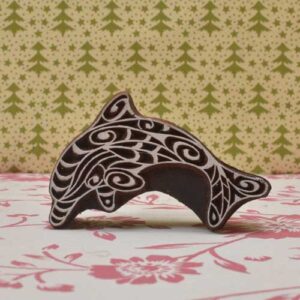 BUY LATEST Wooden Printing Blocks FOR Printing – STYLES FOR THE New Year 2023!
In New Year, embrace your printing projects with our new designs of wooden printing blocks. Style your favorite fabrics with a versatile collection of wooden printing blocks available in a variety of floral designs, animal designs, borders, etc.
The bedding is something someone notices when they enter your bedroom. Print your quilts, pillow covers, curtains, lamp shades, etc. with big Indian Wooden Printing Blocks, floral designs, Border designs, etc, making your bedroom look limited edition. Whether you're looking for quirky and loud or something elegant and understated, your choice of designs often says a lot about you.
Before you invest your hard-earned money to buy wooden printing blocks, there are certain things that you must keep in mind. The most important feature of a wooden printing block is its size. Whether you need to print things in single or multiple colors. When you buy wooden printing blocks online make sure that all the designs make a sensual pattern when put together on fabric. For a more cohesive décor theme, your wooden printing blocks must look good together.
Introduction of New Style of Wooden Printing Blocks - Sets of Wooden Printing Blocks
Considering the wide range of options available these days, buying wooden printing blocks can be confusing. When you have such a wide variety, making the final call becomes difficult. Of course, the material and quality are important, but, in our opinion, it is the design pattern or that makes all the difference.
One of the best ways to help you decide is to decide on a theme. Match the theme and pattern to create a harmonious look on the surface you are printing. To make this process easy, we have introduced a new category of wooden printing blocks on our shop page – "Sets of Wooden Printing Blocks" for our customers.
Blocks in sets cost cheaper than those bought separately and at the same time, the designs in these sets are put together in a way that they belong to the same family or genre and complement each other. These designs work together when used to make/print surfaces and create great patterns, whether it is on any fabric, paper, cushion cover, whatsoever.
These "Sets of Wooden Printing Blocks" are designed especially for beginners who possess enthusiasm for block printing and want to start with their printing projects but lack design ideas. These sets of designs make it easy to create a variety of great patterns with not much effort and help to grow/develop an understanding of block printing design ideas.
Significance and Importance of Types of Designs We Offer for Block Printing
1. Floral Designs for Block Printing
Floral Designs have great power to connect with nature and the divine and are a mode to express our love and emotions. Humans have been using this power for thousands of years. You can also use them to print and decorate your fabrics. We've got a large selection of floral wooden printing blocks in various sizes and pricing. There are more than 100s designs to choose from. We've crafted these designs with the utmost attention to detail. These designs create great patterns when used together in a combination of small and big motifs. Printing with floral designs develops your creativity as you start to learn to create beautiful and evocative patterns. Floral designs resemble love and nature, thus helping you to awaken your emotions and helps you to express your feelings.
2. Animal Designs for Block Printing
We've got a large selection of animal pattern wooden printing blocks in various sizes and pricing. There are more than 100s designs to choose from. We've crafted these designs with the utmost attention to detail. You can use these to print a variety of products, especially for your pets. You can print tents, beds, car hammocks for your pets, etc… 
You can also use these designs to decorate rooms for your kids by printing their bedsheets, pillows, curtains etc..
3. Wooden Printing Blocks for Kids
Kids enjoy being creative and experimenting with different colors and styles, and block printing is the best way to go! This session is in all arts and creative classes in schools, but we had to accept handing the kids potatoes or ladyfinger slices due to a scarcity of Wooden printing blocks. The wait gets up here because we've found an answer to your difficulties! The kid's wooden printing blocks are available in a range of elementary and attractive patterns, designed with the concept that our youngsters will like this art.
These motifs are ideal for printing on bed linings or cotton clothing. Small Border Wooden Printing Blocks are also best suited for printing on bedsheets, table covers, curtains, and whatnot. The sole purpose of these border designs is to print the edges of the paper or fabric to give patterns completeness.
Jaipur is famous for its variety of Arts and Crafts, and one among them is Indian Wooden Printing Blocks. Indian Wooden Printing Blocks are widely used in Sanganeri hand block printing. Sanganer is a town on the outskirts of Jaipur, established by Mewar's Rajput King "Rana Sanga" in the early 16th century, and later gained popularity all over the world for its hand block printing. Here, fabrics are hand printing with Indian Wooden Printing Block and hold a special place in the hearts of Royal Families because of their distinct patterns and colors. Sanganer's block printed fabrics received worldwide popularity during the British India era. Sir George Watt wrote in 1902-"As far as technique is concerned Sanganer can easily be termed as the capital of Hand Block Printing."
Indian Wooden Printing Blocks majorly consist of Indian floral and geometrical designs which describe India's old traditional patterns and designs. Indian Block Printers mainly use these Indian Wooden Printing Blocks traditionally with natural colors and dyes.
Have a marriage function or any other festival coming up and need henna wooden printing blocks to apply henna on your hands, then we have a huge collection for you. Browse through our catalog to select designs for your event or function. You will vast range of designs in our collection. Whether you want to print on fingers, palm, back of the palm, or toes, we have got every type of design in our collection.
7. Bird's Pattern Wooden Printing Blocks
Looking to decorate your garden, want to print some bunting flags, hangings, table clothes for garden tables, or decals, etc, you can pick from a variety of our bird designs and convert your garden into a mesmerizing place to rest,  brunch, or for morning breakfast. You can also use some of our floral and animal designs to create better patterns with bird's wooden printing blocks.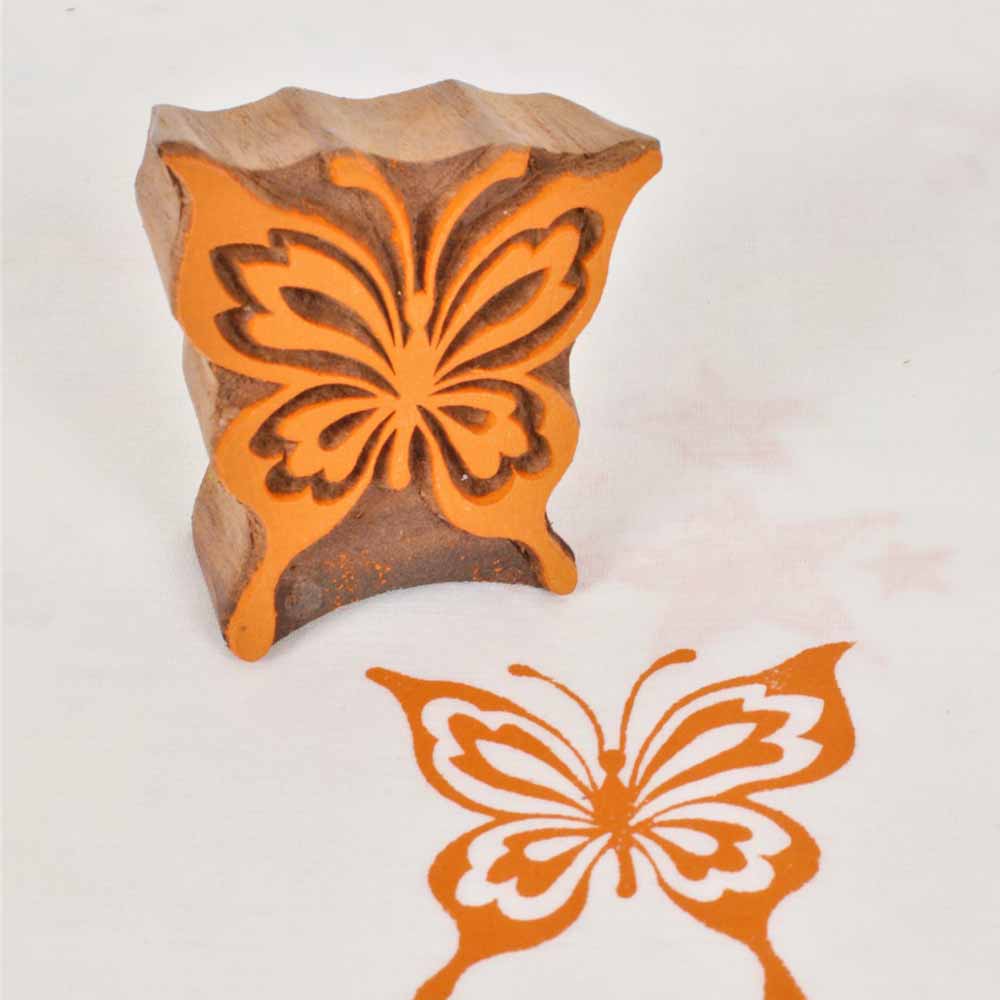 8. Geometrical Patterns Wooden Printing Blocks
These geometrical wooden printing blocks are suitable for printing large patterns. You can use these designs to create repeat patterns on curtains, bedsheets, throws, etc. This collection includes geometrical shapes/designs of various sizes and thus gives you the flexibility to use them in multiple projects.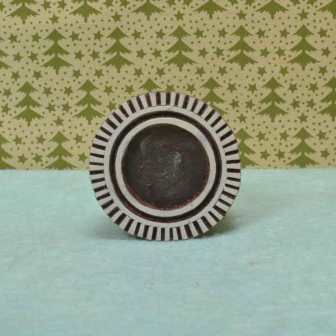 10. Paisley Wooden Printing Blocks
Paisley is a textile design with its origin in the Persian design 'boteh.' It's a teardrop-shaped motif with a curved top. In India, Paisley designs gained popularity through Kashmir shawls and later got utilized by block printers also to print fabric. Paisley designs or patterns gained a lot of popularity during the 18th and 19th centuries and fabrics printed with these designs were exported from India in large quantities.
Paisley designs are still popular in many countries like Iran, India, many Western countries, and countries in South and Central Asia. Our Paisley Wooden Printing Blocks include a variety of designs and sizes.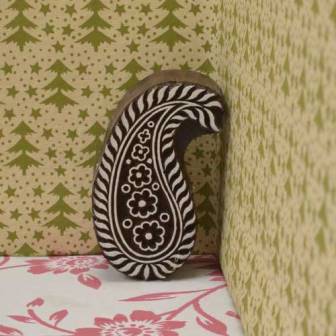 11. Repeat Pattern Wooden Printing Blocks
If you are an expert in block printing and love to explore/develop new patterns for your projects on large surfaces, then Repeat Pattern Wooden Printing Blocks are best choice for  you. Repeat pattern designs are best choice for creating big patterns/designs with just one small block design. 
There are variety of ways you can use our repeat pattern designs. Textile designing consists of various classified ways of repeat patterns. Whether it is allover layout, block repeat, tossed layout, halfdrop repeat layout, we have block designs for every kind of repeat layouts you wish to create on your fabric.
12. Old Wooden Printing Blocks
These variants feature larger patterns and basic designs and date from ancient times. The models are mostly from prehistoric times and may be found on historical sites.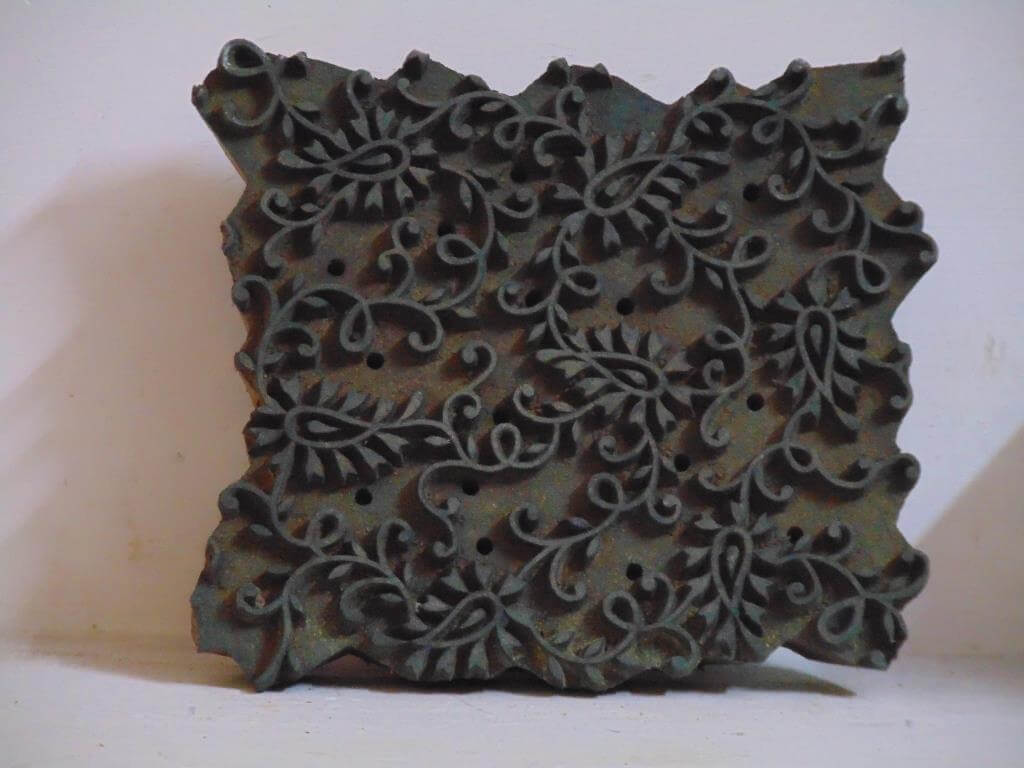 So, don't wait to get your hands on the wooden printing blocks, which can be used on any fabric or material of your preference and desire. The vast diversity that's eye-catching and ideal for art lovers will wow you

The Complete List of RR Printing Tools Best Sellers
Go beyond the regular collection of Wooden Printing Blocks to discover every bestselling design listed on our website in 2023.
Since we started our website, we have been noticing that a few designs are getting sold over and over again, so we decided to create a section of our best seller wooden printing blocks, thus making it easy for our customers(especially beginners) to pick from the best selling designs.
When beginners scroll through the web, their first desire is to check through the wooden printing blocks that are the most widely bought and start with those. However, scrolling through the web week by week is rather annoying. So we just decided to put all the bestselling designs gathered together in one place.
This list compiles all the designs in descending order with best-selling on the top for 2023. Every week our system updates this list so you can get to see the best-selling designs in one place.
Christmas Wooden Printing Blocks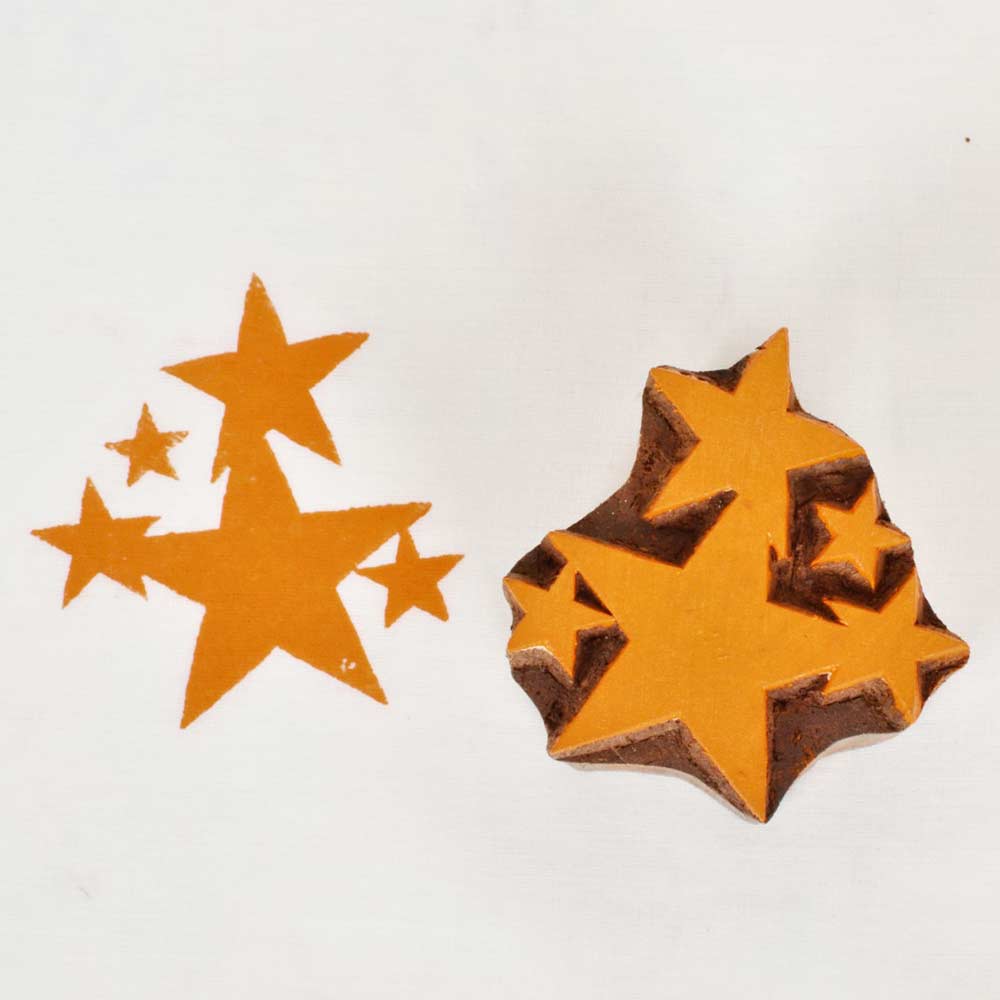 Planning for Christmas? When are you going to start your Christmas preparations? What your Christmas celebrations are all about for you? What are your plans for gifts on Christmas?
RR Printing Tools brings you Christmas wooden printing blocks to help you create beautiful Christmas gifts this Christmas. Why not send customized gifts this time designed with beautiful Christmas wooden printing blocks? 
Why Send Customized/Personalized Christmas Cards?
Surely indeed, one may go into a present bookshop area and purchase beautiful cards. Customized Christmas card designs, on the other hand, promote uniqueness and relevance within your network.
Personalized Christmas card designs would make the receiver feel unique, whether you're presenting to friends and family or sending out Christmas Cards to clients and business partners. If you use stunning block printing designs to connect the holiday card designs collectively, who knows, they could wind up in someone's photo frame in a corner or a beautiful decorative piece.
RR Printing Tool's Christmas Wooden Printing Blocks range will give your customized Christmas Cards a stunning look with awestruck designs. Our Printing Blocks will leave your cards with beauty and elegance, and the card receiver will fall in love with your handmade and personalized Christmas Cards.
Happy Customers of our Wooden Printing Blocks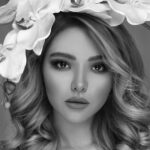 My experience before I bought from RR Printing Tools… I bought wooden printing blocks from several online stores. And the blocks that were always delivered were not up to the same quality they showed/claimed on their websites. Moreover, the final prints with them were gross….. but all thanks to RR Printing Tools, they provide really good quality blocks, and printing with their blocks is satisfying. I recommend RR Printing Tools for their blocks.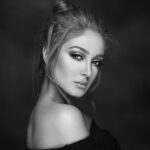 The quality of the product is great and arrived on time. Never expected that I will be able to get my designs into beautiful Indian printing blocks. Great Service by RR Printing Tools. Cheers...!
How To Clean Wooden Printing Blocks As you use your wooden printing blocks multiple times, color accumulates on them and you start to lose details if you don't clean them. Cleaning depends on how delicate the wooden printing blocks are. I would put them against many layers of towel paper and repeat the process several
Read More »
Frequently Asked Questions
Why choose RR Printing Tools for your purchases:
We do Quality Carving.
We Use well-seasoned Sheesham Wood for making wooden printing blocks.
We don't do unnecessary Cost-cutting.
We use only Sheesham Wood.
We employ only Skilled workers.
Usually it takes 7-10 days from the day order received.
BUYING WOODEN PRINTITNG BLOCKS MADE EASY AT RR PRINTING TOOLS​
If you would like to experience the best online shopping for wooden printing blocks, you are at the right place. RR Printing Tools is the ultimate destination for wooden printing blocks and block printing, being host to a wide array including floral wooden printing blocks, Indian wooden printing blocks, henna wooden printing blocks, paisley wooden printing blocks, old wooden printing blocks, and more. It is time to redefine your block printing with our treasure trove of trendy items. Our online store brings you the latest designer products straight out of the production house. You can shop online at RR Printing Tools from the comfort of your home and get your favorites delivered right to your doorstep.
BEST ONLINE SHOPPING SITE FOR WOODEN PRINTING BLOCKS
Be it any type of wooden printing block, RR Printing Tools offers you the ideal combination of Indian handicraft and block-printing fabric and paper. RR Printing Tools is one of the best online shopping sites which could help transform your living spaces completely. Add color and personality to your bedrooms with linens block printed by yourself. Print smart tablecloths to impress your guest. Print Walls, curtains, paper messy photo frames, and cushion covers are sure to breathe life into any corner of your home.
AFFORDABLE WOODEN PRINTING BLOCKS AT YOUR FINGERTIPS
RR Printing Tools is one of the unique online shopping sites where wooden printing blocks are accessible to all. Check out our new arrivals to view the latest wooden printing blocks in the market. You can get your hands on the trendiest designs/motifs every season. You are sure to be impressed with our seasonal discounts. The extra-10%-off sale is the ultimate experience when our products get unbelievably affordable.
Website of RR Printing Tools
RR Printing Tools, the world's no. 1 online destination for wooden printing blocks justifies its block printing relevance by bringing something new and chic to the table on a daily. Design trends seem to change at lightning speed, yet the RR Printing Tools shopping website has managed to keep up without any hiccups. In addition, RR Printing Tools has vowed to serve customers to the best of its ability. Gain access to discounts, promotional sales, lucrative deals, and other special perks on all your shopping with the RR printing Tools website. Hop on to the RR Printing Tools website on your device today and experience shopping for wooden printing blocks like never before!
HISTORY OF RR PRINTING TOOLS
Becoming India's no. 1 manufacturer and supplier of wooden printing blocks is not an easy feat. Sincere efforts, digital enhancements, and a team of dedicated personnel have made RR Printing Tools the online platform that it is today. The original B2B venture for personalized gifts was conceived in 2007 but transitioned into a full-fledged e-commerce giant within a span of just a few years. By 2019, RR Printing Tools had introduced hundreds of wooden printing blocks' designs to its platform, and this has only grown in number each passing year. Today RR Printing Tools sits on top of the online platform of wooden printing blocks with an astounding social media following, a loyalty program dedicated to its customers, and tempting, hard-to-say-no-to deals.
The RR Printing Tools shopping website came into existence in the year 2019 to further encourage customers' shopping sprees. Hop on to RR Printing Tools' website this very minute to experience wooden printing blocks like never before.
SHOP ONLINE AT RR PRINTING TOOLS WITH COMPLETE CONVENIENCE
Another reason why RR Printing Tools is the best of all online stores is the complete convenience that it offers. You can view your favorite designs with price options for different products in one place. A user-friendly interface will guide you through your selection process. Comprehensive product information and high-resolution images help you make the best buying decisions. You also have the freedom to choose your payment options, be it a card or PayPal. The returns policy gives you more power as a buyer.
Customer Service & Support
Fast Shipping
Instant Support
Secure Payment
Fast Shipping
All the products on the Shop page are available for fast shipping.
It usually takes max. 15 days for any parcel to get delivered all over the world from the day we dispatch it.
In the case of Custom Carving or wholesale orders, we will tell you courier charges in accordance with the weight of the products ordered. 
Instant Support
Secure Payment
Joseph Fernandes
@Josephfernandes
The quality of the carving is awesome
As always such great quality on these wood blocks.
Blocks were beautiful and work well stamping on textiles. The detail is clear.