The Art of Dabu Block Printing is yet another form of Block printing on fabric with an elaborate process of dyeing and printing that results in exceptional prints and fabrics of unique results. This type of hand block printing is practiced mostly in certain pockets in the state of Rajasthan in India. Akola Village in Rajasthan is where the Dabu block printing started to bloom. Families in Rajasthan have been practicing the technique of Dabu block printing for centuries while safeguarding the secret of the technique of mud-resist. Dabu Block Printing is also known as Mud-resist printing. These Wooden Block Printing Designs have a unique appearance with brilliant floral and thematic patterns and finely detailed prints of bright and well-chosen hues and designs.
Dabu Block Printing history
The art of hand block printing is said to have originated in China. Slowly and slowly it traveled to India with the state of Rajasthan becoming the main center of block printing. Mud-resist printing is a special variation that can be traced back to 675 AD. The village of Akola in the Chittorgarh district of Rajasthan has been most commonly acknowledged as the originator of the unique Dabu printing style which uses mud resists.
Dabu is often grouped with the other Rajasthani hand block prints like Bagru and Sanganer. But is quite distinct from them in terms of its look and method of printing. Like any other traditional block printing, the ancient style of Dabu block printing also nearly died down before independence due to the influx of cheap machine-printed alternatives in the market. Interest in this craft was revived in the 21st century along with the renewed interest in ethnic textiles.
The Dabu Printing Process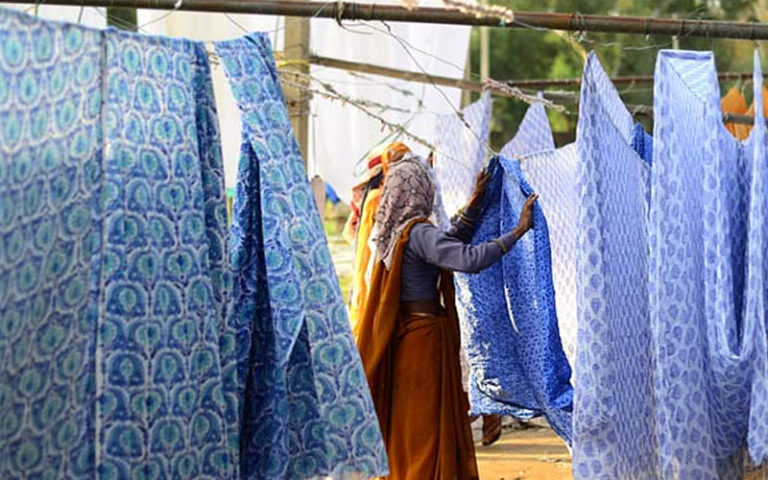 Like block printing, the technique of Dabu fabric block printing is very complicated. It involves a number of workers and has different stages of printing, washing, and dyeing. First, the plain fabric received from the mills is carefully washed to remove any stains on the fabric as these stains can interfere with the dyeing process.
Then Dabu block printing designs are meticulously hand-printed onto the fabric using wooden printing blocks dipped into fast dyes. The next and crucial process involves the use of mud resist which makes the print unique. Ingredients like mud, gum, lime and waste wheat chaff are combined to make the "dabu" or mud-resist paste that is then patted over certain parts of the design. The paste is dried with sprinkled sawdust. The covering essentially protects these parts of the fabric from the dye used later on creating a unique and colorful effect.
After this step of printing the fabric is spread out in the sun so it gets completely dried out. Then it is dipped in the vat of dye, dried again, and washed thoroughly to remove paste or excess dye. The fabric can be dyed more than once in different colors to give each part of the design a different hue. The dyes used are both natural like Kashish( grey-brown) and indigo(blue) and are combined with other natural dyes like pomegranate skin and alizarin. Today a lot more color options are available to artisans as a result of synthetic dyes.
Style & Variety of Dabu Prints
Dabu printing is used to create a lot of different designs and patterns.  This includes varieties of colors and motifs. The typical motifs used are ones of a peacock, mangoes, leaves, cornstalks(boota), sunflowers, and animal figures. Geometric shapes, dots, and wary lines are also used. Dabu Block printing design is used to create all types of Indian garments, from Dabu Printed sarees and Dabu Printed salwar kameez to Dabu Printed shirts, tunics, and kurtas.  Dabu Printed Scarves, stoles, and shawls printed with Dabu designs are also very common, as well as accessories like totes and jhola bags.  Dabu Block printing is also used to decorate linens, bedsheets, bed covers, cushions, and curtains.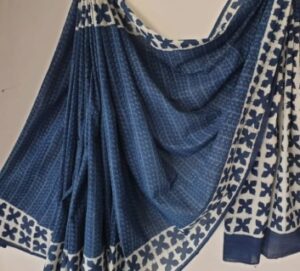 The Present status of Dabu Block Printing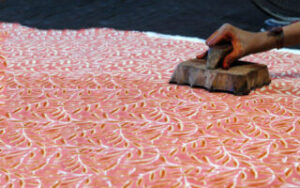 Despite the setback it has received from the modern textile industry, both the artisans and the government have tried to revive this traditional process. While the artisans are exploring ways to meet the customer's demands and expectations, the government is supporting this technique by providing funds and facilities to keep this art alive.
Since the last few years, new research and development in various designs and dyeing did by artisans have borne results in reviving the art. These combined efforts of artisans and government are helping in regaining the beauty and popularity and demand of Dabu block printed fabrics.
Today Dabu block printing has become famous all over the world. It is adorned by buyers for its vibrant and unique designs and colors. The technique has slowly and steadily gained a loyal and admiring customer base all over the world encouraging its artisans to provide innovative designs and patterns appealing to the more modern and westernized global customers. 
If you want to read about more traditional printing techniques like block printing art then click on the hyperlink.