Wood Block Carving Crown Shape 370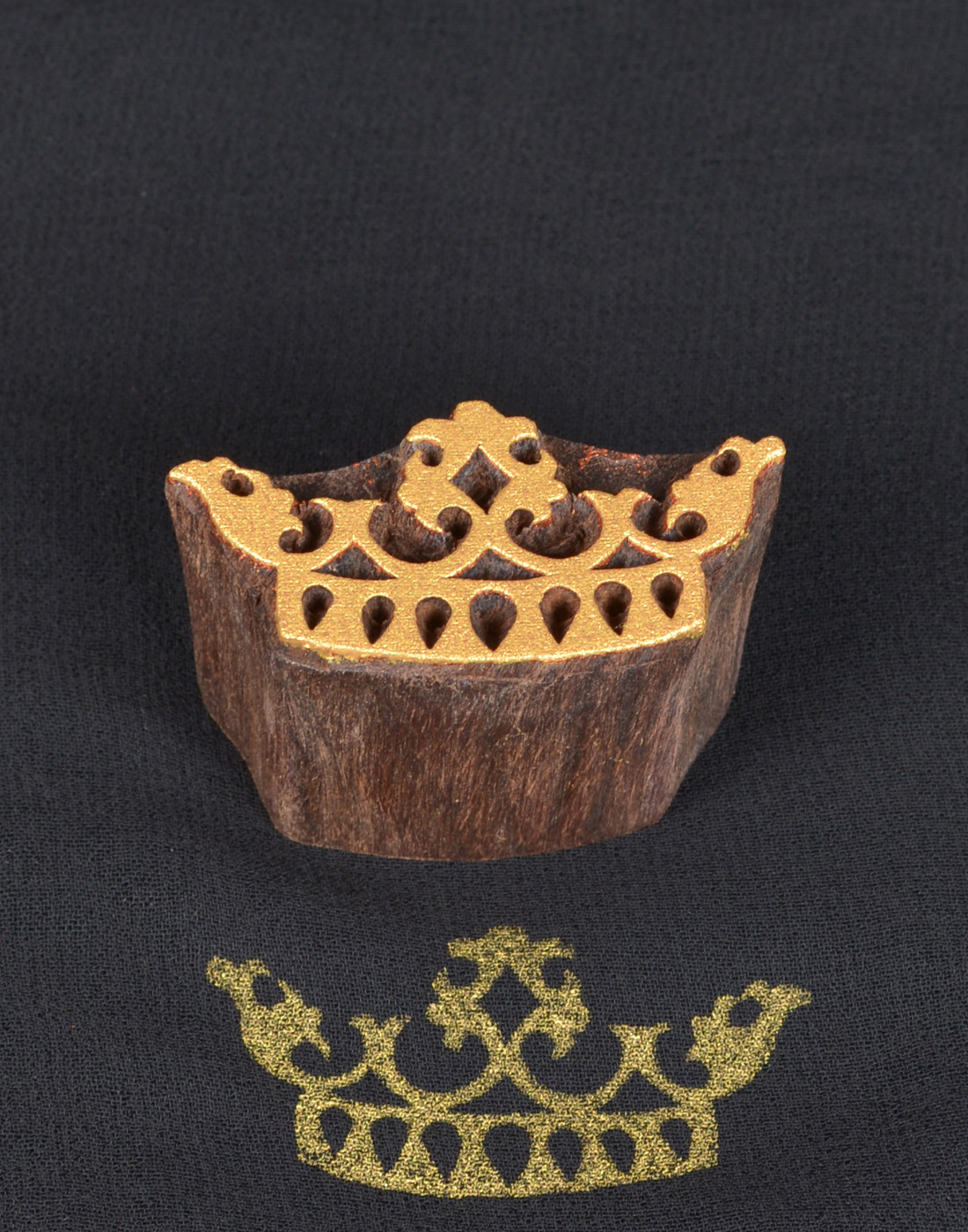 If you love the idea of block printing for yourself and looking to buy wooden printing blocks, you can buy this Wood Block Carving Crown Shape and print your own fabric and papers.
We design, make, and sell our own wooden printing blocks, for block printing onto fabric, papers, clay, and mixed media art products. Block Printing is an ancient Indian printing technique.
Our wooden printing blocks are all hand-carved in the traditional Indian method, in India.
The Art of creating Wood Block Carving Crown Shape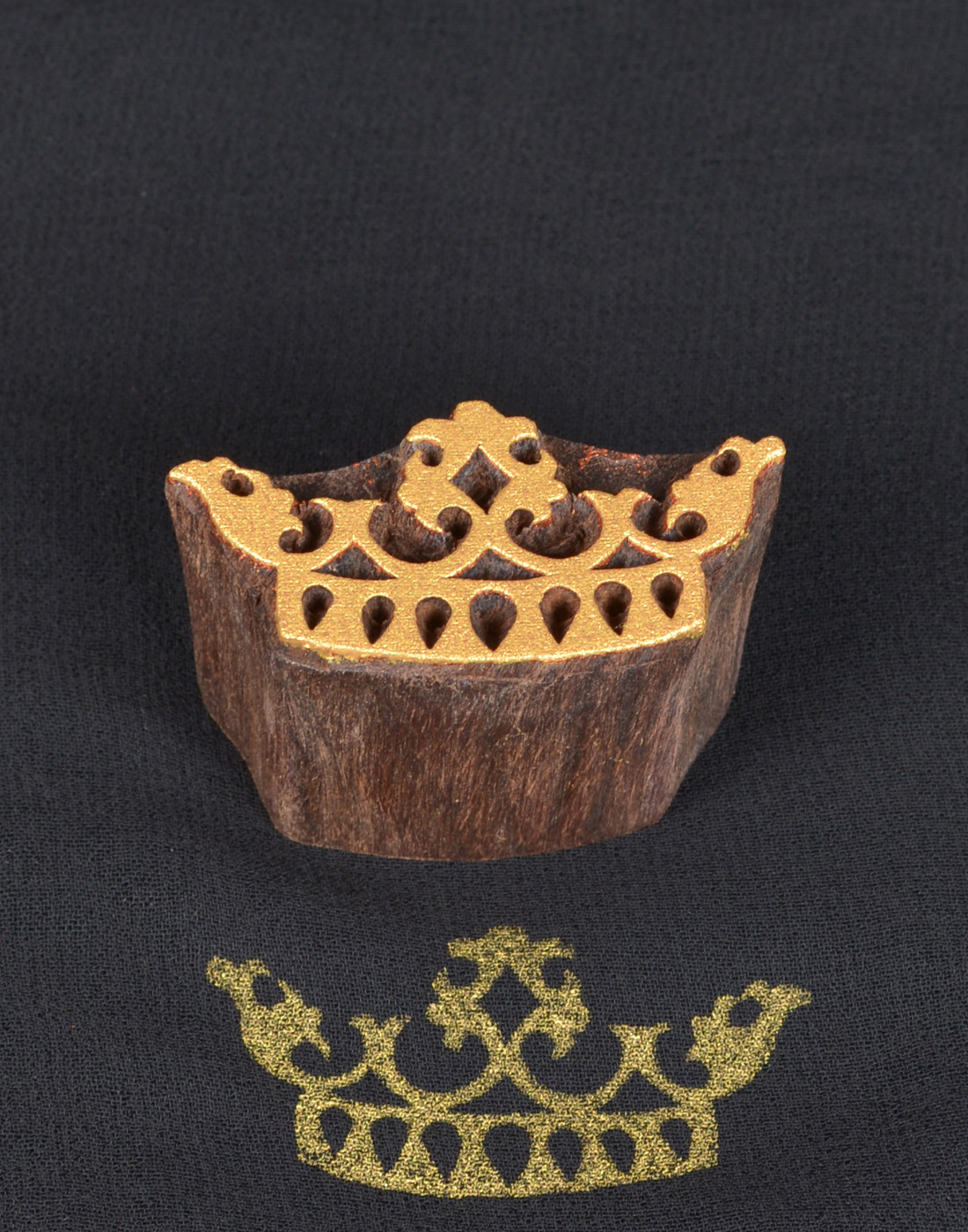 The art of Wooden  Block Printing is a printing technique or process that has survived somehow from ancient times to the present.
There have been claims by several countries having block printing originated/developed in their country but several pieces of evidence have been found in India from ruins of ancient civilizations which date back thousand years.
For Example Scraps of clothing found in the ruins of Mohenjo Daro, provide evidence that block printing was practiced in India in 3000 BCE.
Since the 12th century, the art of Block Printing has flourished. The artistry flourished further with the receivable of royal patronage.
Rajasthan and Surat in Gujarat became the important trading centers of printed textiles particularly in Block Print art. Today Block Printing has gained new heights by reaching the different corners of the world.
The Wood Block Carving Crown Shape is one of those creations.
How to Create Wood Block Carving Crown Shape
Like any other Wooden block, printing creation, Wooden Printing Blocks Heart Design 32 creation is a typical process and takes time. The printers use several wooden printing blocks to complete a design. The process of block printing begins with wooden printing blocks.
Woodcarvers carve designs into wood planks/blocks. The top of the wooden printing block has a handle for the printers to hold it.
The next step in the process is the arrangement of the fabric. Workers stretch several layers of jute fabric over a long rectangular table. The jute serves as a pad to provide resiliency to the printing surface.
Printing is done from left to right. When the printer dips the printing block into the dye/color then presses it onto the fabric, the printer also slams the back of the printing block hard with the fist to create a clear impression.
Then the printer moves the printing block to the next portion of fabric to be colored.
As they work, the printers pull a wooden cart bearing their printing blocks along with them. The wooden printing blocks can be interchanged from one piece of fabric to another, creating different patterns.
Custom designs and different colors can be used from one fabric to another, creating still more individual work.
Each color of a design is done by a different printer, coming behind the one before and repeating the process. The process requires teamwork, as each subsequent printer must place the block accurately to create a beautiful, whole pattern.
Once the pattern is finished on the whole length of the fabric, the piece is treated to fix the dyes. This process of block printing has been used for centuries and is still in practice.
The Wood Block Carving Crown Shape is created through the same process.
Block printing has its origins in India several years ago!
In ancients times, there was no source for vivid colors, designs, and patterns and hence, our distinctive craftsmen used natural dyes(mineral and vegetable dyes) and created wonderful patterns in form of wooden printing blocks.
With the advent of time and technology, this ancient technique started spreading widespread in Northern India, and now almost 80% of Indian houses have some or the other thing which has block print on it.
Be it on bedsheets, pillow covers, table cloth, lamps; these block printing designs leave a mark on the viewers' eyes.
The best part about this technique of block printing is, it is completely eco-friendly and has no damaging effects on fabric or canvas. They do not require any artificial substance, and hence it is counted as one of the purest forms of handmade crafts.
You can use the Wooden Printing Blocks Heart Design 32  with the same ease and with no fear.
Sheesham wood is used for making wooden printing bocks which is entirely nature's gift and therefore has no harmful effects. The first step is to draw the motif on woodblock/plank.
Once the design has been approved and ready for carving, a wooden block/plank is prepared by hand sanding and then coating the surface with a white paste so that the surface is uniform and smooth for imprinting design on it.
Then the design is printed on the block to carve.
That is how the Wood Block Carving Crown Shape is created.
Carvers then tap out the empty space from the woodblock so that the design remains along the printing surface. This is done by hand using very small chisels.
It is a labor-intensive process that requires skill, experience, and patience. The completed blocks are checked for accuracy and soaked in oil to cure the wood so it doesn't crack and enhance its life, and are then ready for use in printing.
The result?  Beautiful textiles for a living!
So why not go for Wood Block Carving Crown Shape
and create your own printed design fabrics.
We guarantee you will be more than satisfied with the Wood Block Carving Crown Shape.
 A  Block Printing Guide for Beginners of Wood Block Carving Crown Shape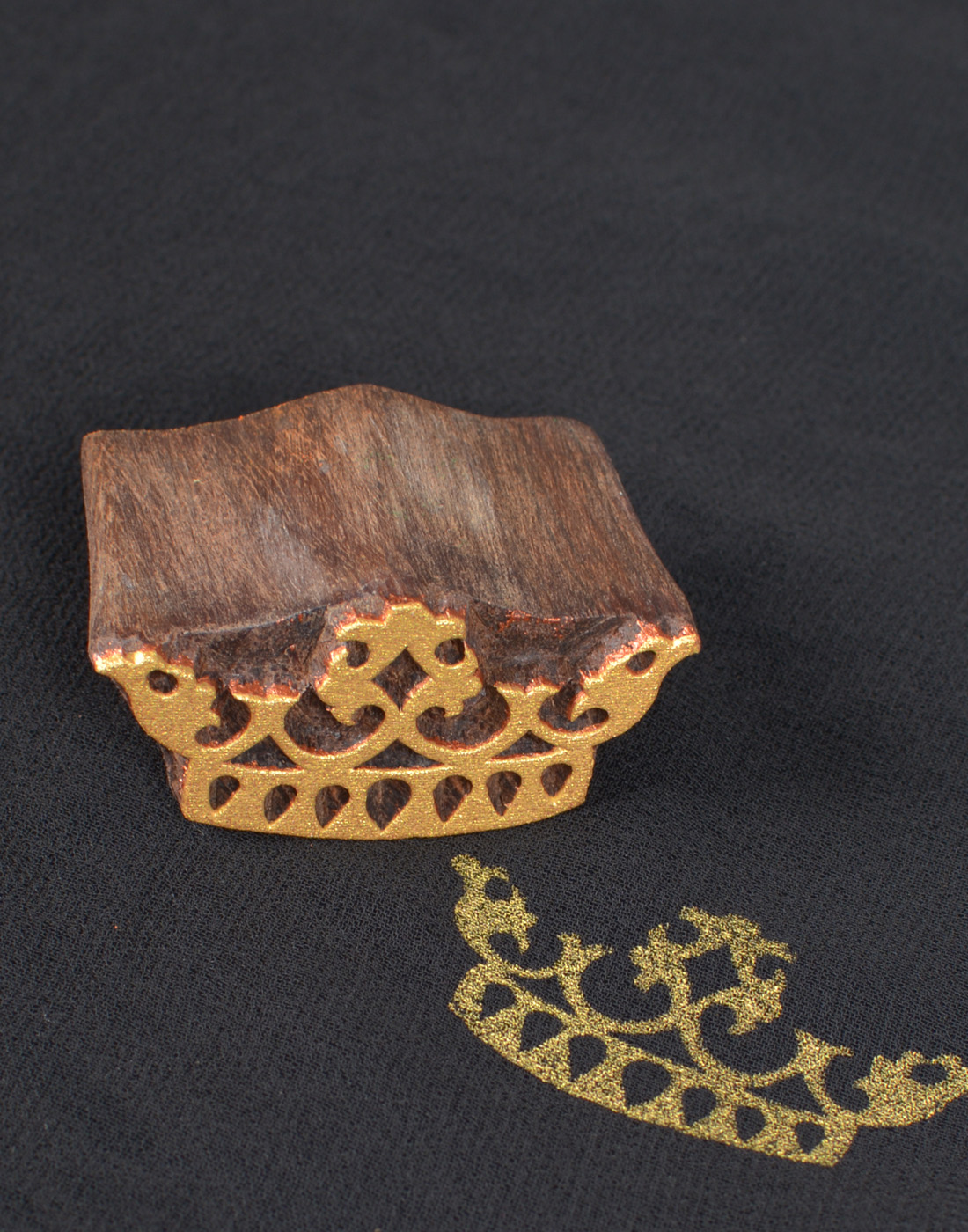 It is necessary to have a  Block Printing Guide for Beginners of Wood Block Carving Crown Shape
Block printing may be a traditional sort of fabric design that's still used extensively today in India. It is a simple and instantaneous printing technique that will produce rewarding results on fabric and paper.
In essence, block printing with Wood Block Carving Crown Shape is remarkably almost like rubber stamping, with many of the printing skills being transferable. Block printing is also an incredibly creative process.
With just one wooden printing block you can create endless designs and variations on a theme, and become an instant fabric designer.
Block Printing Guide for materials used to do Block Printing
Inking tray
• Textile paints
• Small sponges
• Foam mat
• Fabric
• Wooden print blocks
Your Block Printing Guide for Wood Block Carving Crown Shape
1) Place your fabric on the foam mat, with your materials close at hand.
2) Squeeze a smidgen of fabric paint onto your inking tray. Dab a small sponge lightly and evenly into the paint.
3) Using the sponge, dab evenly across the surface of the wooden printing block.
4) Press the block down onto the fabric with even pressure, holding it in place for a few seconds.
5) Remove the wooden block by gently peeling it from one edge.
6) Allow the stamped image to dry, and then heat set it following the paint manufacturer's instructions.
7) Repeat the process in all sorts of different ways to express your creativity.
8) To clean your wooden printing blocks, simply run them under warm water and scrub them with a toothbrush.
  How to get better results with Wood Block Carving Crown Shape
Here are the useful tips to get better results while printing with a Wood Block Carving Crown Shape.
Apply the paint with a sponge.
Place a foam board underneath the printing surface.
Experiment, play, and relax.
Try out as many "what ifs" as possible
Be spontaneous.
Experiment with the various ways a single motif can be repeated to create different patterns.
Keep printing and overprinting until you produce something you are happy with.
Heat set the textile paint if you want your print to be permanent