[vc_row][vc_column][vc_column_text hidden_markup="" funiter_custom_id="funiter_custom_61fc10bfb510f"]
Shop High-Quality Indian Wooden Printing Stamps at RR Printing Tools
Textile printing is the application of colour in specific patterns and designs to textiles. Fabrics that have been properly printed have colour bound to the fibre, preventing colour fading when washed or subjected to friction. Indian Wooden Printing stamps, stencils, etched plates, or rollers could apply colours on fabric during printing to create diverse designs. A cloth can be printed in several different ways. One such process is hand block printing, which entails carving a specific pattern or design on a block of wood, dipping it in paint or dye, and then striking it on cloth. While blocks could be made of stone, they are more usually made of wood for better outcomes. The intricate motifs you see imprinted on fabric gets carved into wooden blocks and not painted with a brush. Exquisite patterns of flowers, animals, and geometric designs give a plain cloth an intriguing face.
RR Printing Tools presents you with beautiful sets of Indian Wooden Printing Stamps for helping you to bring out your creativity. Your preferred designs get carved on a piece of a wooden block. We also offer Custom Carved Indian Wooden Printing Stamps to our customers. Please feel free to reach us and know more about our product range.
Please keep this reading till the end to know about this traditional and beautiful type of textile printing. [/vc_column_text][/vc_column][/vc_row][vc_row][vc_column][vc_toggle title="What is Wooden Block Printing?" funiter_custom_id="funiter_custom_61fc10bfb5118″]
What is Wooden Block Printing?
Wooden block printing refers to using Indian wooden printing stamps to imprint designs on textiles such as linen, cotton, and silk. It is the oldest and simplest, but also the slowest, method of textile printing. Hand block printing can provide more aesthetic effects, which are impossible to achieve with any other design process. Previously, any design could get engraved on the Indian wooden printing stamp to manual print the fabric; however, any pattern can now get etched on the Indian wooden printing stamp to print the fabric manually. The block acts as a stamp, and the result is a mirror image of the carving.
Woodblock prints can differ in size, from little images designed to be reproduced in a pattern to gigantic works of art that need the use of a big printing press. They were used to print full novels in the past.
Hand block printing is popular in Rajasthan. Block printing is the process that gets utilised in both the fashion and interior design industries. To achieve consistency and precise patterns, good wood block printing necessitates talent and experience.
Block printing is far more than pressing blocks into cloth. From carving each Indian wooden printing stamp to preparing fabric, blending dyes, and applying finishing touches, there are numerous stages involved. The beautiful block printed fabrics result from the sum of these efforts.
RR Printing Tools has a group of skilled and professional craft workers who are capable enough to produce or carve any design on Indian wooden printing stamps. Each print can capture a great amount of precision depending on the size of the knife and the quality of the raw materials. Because the technique gets mostly done by hand, no two prints are ever exactly alike.[/vc_toggle][vc_toggle title="Evolution of Wooden Block Printing" funiter_custom_id="funiter_custom_61fc10bfb511f"]
Evolution of Wooden Block Printing
For innumerable artists throughout the world, printing is a popular pastime and profession, but did you realize that woodblock printing dates back to ancient times?
Woodblocks are one of the earliest printing processes, having been employed to create carved and moulded stamps and seals for centuries. Printmaking, on the other hand, would not have been conceivable without the development of the paper. Paper-making dates back to around 105 AD in China, according to scientists.
Stone carving was most likely the first printing innovation: stones were scraped with wet paper and ink to produce etched calligraphy. The woodblock print was created thereafter, or in parallel. The Diamant-Sutra from Dunhuang, the first Chinese woodblock print text, dates from 868 and is so technically complex that woodblocks must have originated much before that, though.
Hundreds of years later, the technique was picked up across Asia, the Middle East, and Europe. Before the advent of moveable type, it functioned as both an art form and a method of printing text.
Block printing remained a convenient technique to print books for generations due to the difficulty of written Chinese, which has over 40,000 unique characters.
Etching became the most popular printing process in Europe during the 16th century. As a result, woodblocks became obsolete with the discovery of lithography and, subsequently, photography. As a result, it remained primarily an artistic printing medium rather than something more practical and cost-effective.
This changed in 1867, when Japan opened its doors to the west, bringing Japanese woodblock prints to artists like Gauguin, Munch, and van Gogh. For German Expressionist of the Bruecke, the woodblock had a unique meaning at the start of the 20th century.[/vc_toggle][vc_toggle title="History of Block Printing in India" funiter_custom_id="funiter_custom_61fc10bfb5125″]
History of Block Printing in India
Cotton printing and dyeing were first developed in Rajasthan amid India's mediaeval period. Tents were quickly manufactured out of printed fabrics and became an essential feature of royal processions. The combination of the incredibly creative techniques of weaving, spinning, dyeing, and printing got heavily impacted by the seasons. Festivals also dictated this activity.
A version of the Diamond Sutra from 868 AD is the first known block printing (currently in the British Museum). But although block printing is believed to be around two thousand years old, the cotton fabric trade between India and Babylon is supposed to have flourished since Buddha's time.
Surat became a renowned centre for the export of painted and imprinted calicos in the 17th century, with a wide variety of qualities. The inexpensive printed cloth got imported from Ahmedabad and other cities, and Sanganer was not as well-known for printing presently.[/vc_toggle][vc_toggle title="Techniques of Woodblock Prints or Indian Wooden Printing Stamps" funiter_custom_id="funiter_custom_61fc10bfb5129″]
Techniques of Woodblock Prints or Indian Wooden Printing Stamps
The woodblock or Indian wooden printing stamps is a type of relief printing that works on the idea of cutting out areas of the image that will not be printed. Instead, colours are pressed onto the elevated areas, similar to a relief, and then wiped upon a piece of paper or forced through the pressing, in which instance the reliefs are reversed.
Fruit-bearing trees, such as cheery or pear, are commonly employed in Indian wooden printing stamps because they provide realistic, rich sketches. Linden and poplar, on the other hand, are easier to cut but disintegrate more readily. Plywood is still utilised in Indian wooden printing stamps nowadays.
Colors are pressed and added on the block with rollers in the western wooden printing stamps technique. Watercolors application gets done with a brush to Asian wooden printing stamps, and the inked designs are then pressed onto a dry or damp paper.[/vc_toggle][vc_toggle title="Wooden Block Printing in India" funiter_custom_id="funiter_custom_61fc10bfb512c"]
Wooden Block Printing in India
The Paithapur families in Gujarat have been practising and sustaining this type of hand printing for generations. They build elaborate Indian wooden printing stamps and use mud resist printing to print their fabrics. Sodagiri (trader) prints are the name for these prints. Black and red patterns of birds, animals, and dancers are popular in Kutch. Ahmedabad and Baroda saris feature huge mango motifs on a red or blue backdrop. Bhavnagar, Vasna, Rajkot, Jamnagar, Jetpur, and Porbandar are many other well-known block printing centres in Gujarat. Many printers in Dhamadka, Gujarat, use predominantly madder root for red coloring, rusty iron mixture for black printing, and indigo for blue printing. Ajrakh is the name given to these fabrics.This Block printing produces geometric designs.
The art of block printing extended from Gujarat to Rajasthan. Birds, animals, human beings, goddesses are all popular prints here. Jaipur, Bangru, Sanganer, Pali, and Barmer are major cities.
Calico printed bed covers, blankets, and saris are popular in Sanganer. Calico Printing is a type of hand block printing in which the outlines are printed initially, and then the colour gets filled in. Colors and patterns with a lot of contrast are trendy. They're printed in diagonal rows over and over again. Doo Rookhi Printing is very well-known in this town. Artists use this method to print on the both sides of the fabric.
Syahi-Begar and Dabu prints are well known in Bagru. The former features patterns in yellow and black ochre or cream. The latter are imprints in which parts of the image are protected from dye by using a resist paste. The prints of red chilies with blue-black borders, accompanied by flower-laden trees, are famous in Barmer. Other well-known prints are the Sikar and Shekahawat prints, which feature horses, camels, peacocks, and lions.[/vc_toggle][vc_toggle title="The Process of Indian Wooden Printing Stamps Carving" funiter_custom_id="funiter_custom_61fc10bfb5132″]
The Process of Indian Wooden Printing Stamps Carving
Earlier days when, India, particularly the Rajasthan region, was home to a variety of tribes who were famed for their labour. The block printers were one of the groups. They used to make printed garments for the region's numerous tribes. Each design, which featured a variety of motifs, indicated your occupation or tribe affiliation. The patterned shirt or turban worn by a person might indicate if they were a farmer or a metal craftsman.
https://www.youtube.com/watch?v=298Gz6_o5B4[/vc_toggle][vc_toggle title="What exactly is Block Printing?" funiter_custom_id="funiter_custom_61fc10bfb5136″]
What exactly is Block Printing?
An antique print technique is hand block printing with natural or vegetable colours. This art form has a long history in India, with its pinnacle being during the 12th century. Today, it competes with the fast-paced world, but it survives thanks to those who still appreciate them. A hardwood square chunk with an engraved design is referred to as "INDIAN WOODEN PRINTING STAMPS." These wooden printing stamps are used to print on cloth, and block printing is the name for the technique. After that, the fabric is known as block print fabric. Block printing comes in a variety of styles.[/vc_toggle][vc_toggle title="Woodblock carving or Indian Wooden Printing Stamp for a block print" funiter_custom_id="funiter_custom_61fc10bfb5139″]
Woodblock carving or Indian Wooden Printing Stamp for a block print
The foundation of the block printing method is hand-carved wooden printing stamps. Indian Wooden Printing Stamps carving is time-consuming and requires outstanding expertise. Wood carvers have been practising and teaching their craft for many years. The most difficult step of the strategy is carving of the outline block. It's the most significant wooden printing stamp because it serves as the design's skeleton. The most competent artisan works this item on in a block manufacturing shop (typically the owner). The process starts with a freehand paper sketch of the design's outline. The craftsman sketches out the colour fill blocks using the design as a map.
To make a print, how many wooden printing stamps does it need required? That, of course, gets dependent on the design. Each colour and design element needs to be in its own indian wooden printing stamp. That's right: one colour and one stamp at a moment, every tiny element comes alive! A simple design may need three Indian wooden printing stamps, while a complex design may take up to 30!
A woodblock is approximately 5–8 square inches in size. If a design calls for it, it can be as big as 14 inches. The size constraints of the blocks dictate the parameters of possible design, which is why Indian block prints get characterised by modest motifs.
For centuries, the basic block printing method has remained unchanged.
The first step involves carving. These Indian wooden printing stamps get carved by master block carvers who have been doing so for many years. A chisel and wooden hammer are often used to cut a decorative pattern into these Indian wooden printing stamps. It is a time-consuming process that necessitates expertise, experience, and patience. The finished blocks are tested for correctness and soaked in oil to prevent the wood from cracking before being used in printing.
During the printing process, carved Indian wooden printing stamps retain moisture, and it's vital that the wood doesn't deform. The Indian wooden printing stamps get placed in plates of mustard oil for several days to prevent distortion. They pour over wads of cloth to cure over a few more days.
Block carvers next drill small holes into the regions where flat colour will get applied. Cotton stuffed into these holes after printing provides even colour application.
Artists fill each aspect of a design with one block and one colour at a time to block print a pattern. To make the fabric borders, they employ two different sets of Indian wooden printing stamps. A border pattern, like the main pattern, may necessitate numerous sets of carved Indian wooden printing stamps.[/vc_toggle][vc_toggle title="Why is Wooden Block Printing Trending?" funiter_custom_id="funiter_custom_61fc10bfb5140″]
Why is Wooden Block Printing Trending?
Wooden block printing, is popular for a variety of reasons.
1. It is simple and straightforward to execute. The prints on the materials have sharpness, precision, and excellent details.
2. The vast possibilities for mixing and matching different block motifs in various colours on the same cloth, as seen in large canvas textiles like sarees and salwar kameez, are incredible.
3. A massive number of wooden blocks are retained on hand at all times, ready to get used in accordance with the desired patterns and designs.
4.It's quite simple to make new Indian wooden printing stamps with new designs.
5. Because the wooden printing stamps are made of high-quality wood, they are long-lasting. Metallic blocks are occasionally utilised, however their movement is limited in comparison to wooden blocks.
6.Intricate and precise detailing for complex designs can get etched into the blocks, that is only achievable with these Indian wooden printing stamps.
7.A point on the Indian wooden printing blocks act as a reference for the repeat imprint, ensuring that the overall look is seamless. The wide range of colours used in the designs gives them a vivid and modern feel.
8.Block prints are successfully tested on cotton, silk, and other materials.[/vc_toggle][vc_toggle title="Quality of Our Indian Wooden Printing Stamps" funiter_custom_id="funiter_custom_61fc10bfb5144″]
Quality of Our Indian Wooden Printing Stamps
RR Printing Tools range of Indian Wooden Printing Stamps are manufactured from the highest quality of wood with the help of finest craftsmen. They are quite experienced with their work and we can assure you that our supplies will offer you an amazing printing experience. Visit our shop to know more about our range of Indian Wooden Printing Stamps.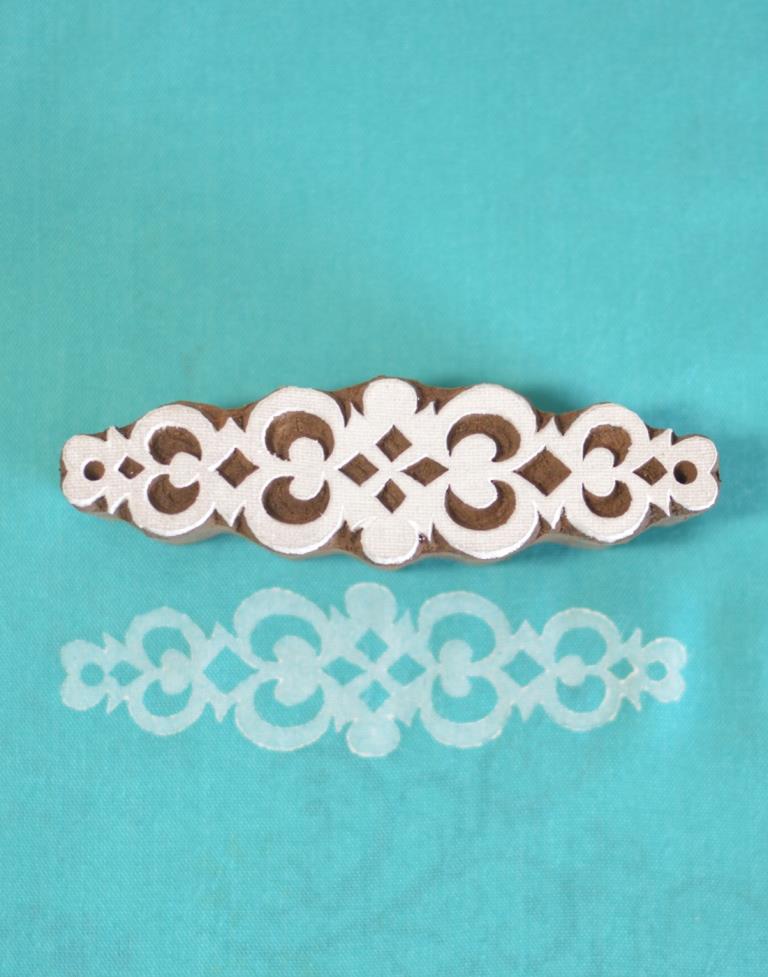 [/vc_toggle][vc_toggle title="How can you use Indian Wooden Printing Stamps?" funiter_custom_id="funiter_custom_61fc10bfb5147″]
How can you use Indian Wooden Printing Stamps?
Let's talk in general how are Indian Wooden Printing Stamps used. You can follow the procedures and produce beautiful designs with your Indian wooden printing stamps along the same lines. First, Indian wooden printing stamps gets dipped in the colour container and then pressed against the fabric. The fabric is pressed after the Indian wooden printing stamps has been dipped in the colour container. Because this printing requires a specific technology, there is a procedure that must get followed. The printing is always done from left to right. The craftspeople dip the block in the dark colour and apply it to the fabric. The powerful movement of placing a gripped hand on the back of the handle creates a lovely impression. This process gets performed multiple times across the fabric's width and length. The artisans then sprinkle saw dust onto the fabric after the printing process, which avoids irregularity and preserves the finished design. The finished fabric is then dried outside.
The printed cloth is then washed in regular water for up to 4 hours after it has dried.
The fabric gets steamed after it gets washed. For the steaming procedure, tamarind leaves and alka colour are combined in water. This softens the fabric while also helping to repair the colour. The fabric is re-dried outside after steaming.
Important tip to remember: Do not directly put paint on the block if you are a beginner. Put enough paint into a container and roll it around with a brayer in different directions until it's totally covered. Move the brayer in various directions to apply the color in a clean, equal coating while your design is sitting flat on the table, carved face up.
Here is a detailed DIY Guide on how you can use your Indian Wooden Printing Stamps.[/vc_toggle][vc_toggle title="RR Printing Tools Range of Indian Wooden Printing Stamps" funiter_custom_id="funiter_custom_61fc10bfb514f"]
RR Printing Tools Range of Indian Wooden Printing Stamps
RR Printing Tools presents you a range of Indian Wooden printing stamps that can be used for:
Fabric Printing Stamps
Paper Craft Prints
Other Form of Art & Craft
The best feature about the Wooden Block Printing method is that it is fully eco-friendly and does not harm fabric or canvas in any way. They do not involve the use of any artificial materials, making them one of the purest types of handmade crafts.
Second, block printing comes in a wide range of colors and patterns, whether it's wooden, textile, or canvas block printing. The printing patterns are vibrant and energetic. There are multiple designs for a single product, and there are many designs for single colours.
We offer a wide assortment of hand block printing patterns and designs at reasonable costs. In an extremely captivating way, we have set a great benchmark for the workmanship and texture of the pattern and design on the block.
Here is a glimpse of the vast array of patterns and designs accessible on RR Printing Tools. We have meticulously crafted all of which with our customers' needs and tastes in mind.
Flora and fauna Wooden Printing Stamps: We have a large selection of animal and flower wooden printing stamps in various sizes and pricing. We have crafted these animal wooden printing stamps with the utmost attention to detail.
Kids are block printing with Indian wooden printing stamps: If your child enjoys being creative and experimenting with different colours and designs, block printing is the way to go! This session was present in almost every arts and the creative class in schools, but we had to settle for handing the youngsters potatoes or ladyfinger slices because of a lack of Indian wooden printing stamps. The wait gets over here because we've found a solution to your difficulties! The kid's wooden printing stamps come in a variety of elementary and attractive patterns, designed with the idea that our children will like this art.
Border wooden printing stamps: The detailed motifs are ideal for bed linings or cotton clothing borders. Basic leaf patterns to little flowers are among the designs.
Old wooden printing stamps: These variants feature larger patterns and basic designs and date back to ancient times. The models are mostly from prehistoric times and can be found on historical sites.
So, don't wait to get your hands on the wooden printing blocks stamps, which may be used on any fabric or material of your preference and desire. The vast diversity that is eye-catching and ideal for art lovers will wow you.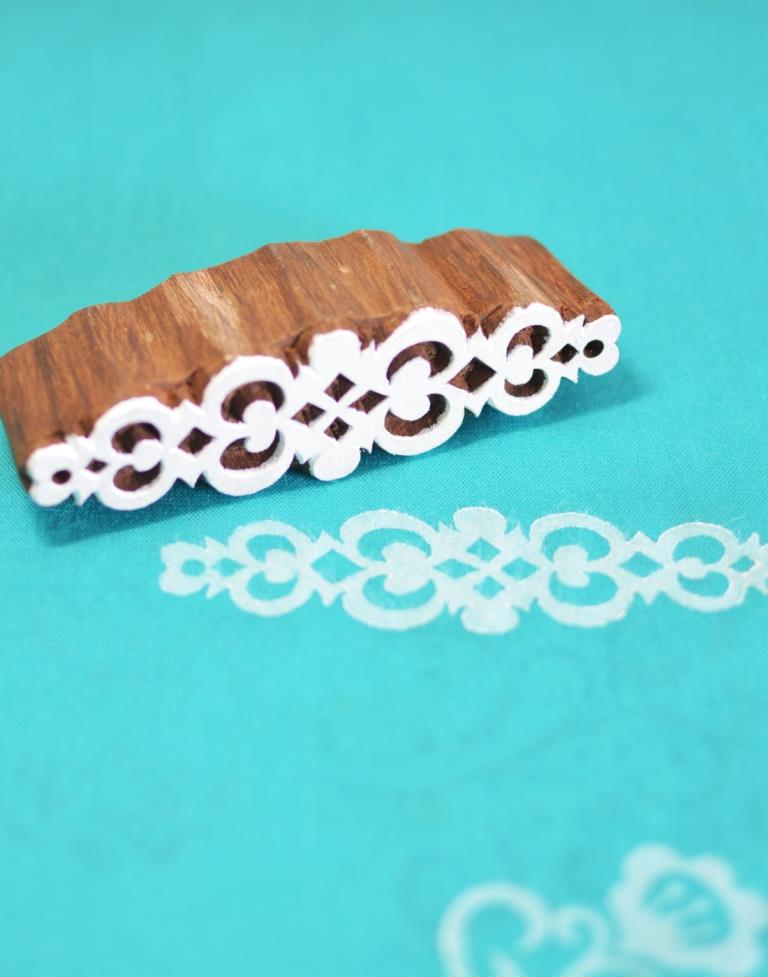 [/vc_toggle][vc_toggle title="Frequently Asked Questions about Indian Wooden Printing Stamps" funiter_custom_id="funiter_custom_61fc10bfb5158″]
Frequently Asked Questions about Indian Wooden Printing Stamps
What is the best way to use Indian wooden printing stamps?
Block printing is a relief printing technique that can be used on cloth or paper. It makes use of a hand-carved wooden block with a specific design. You can imprint on the chosen surface after using appropriate ink, such as vegetable colours. This technique originated in China and dates back over two thousand years. In East Asia, it is among the most widely used printing processes. This process was originally used to imprint on fabric by placing the block on silk fabric and exerting pressure to guarantee that the pattern gets printed to the fabric.
What Is the Best Way to Block Prints?
Is it necessary for me to be an expert in this field? Is it necessary for me to enrol in a course? Absolutely not; simple printing is possible at home without effort. All you have to do is visit our official site and purchase the various types of wooden printing stamps. Don't forget to pick up some dye or ink as well. When you have those products in place, you may print the design on a piece of fabric, ideally plain.
Which Fabric Is Best for Block Printing?
The sort of fabric you use gets determined by the dye you use. Natural textiles, like cotton and silk, would be wonderful choices if you're using natural dyes. Wool should get avoided since it cannot make a precise shape.
What Is the Purpose of Hand Block Printing?
You can express your creativity through your clothing. For exploring your artistic side, you don't need to take any design course. When you have the Indian wooden printing blocks, you may let your imagination go wild. Don't be afraid to experiment with different dyes and colours. In reality, you may use a variety of fabrics and play around with various colors and motifs. We are confident that your inventiveness will not get wasted. You may even display your work to family and friends to encourage others to try it out.
What is the best way to clean Indian wooden printing stamps?
Everything from a basic vinegar and water solution to a light dish warm soapy water can help. You can use diluted version of your standard multi-purpose dishwashing liquid. However, don't use harsh chemicals to remove the bleach from these blocks since it will damage the wood to dry down. Here are the steps you must take: • Fill a bucket with water and immerse the unclean wooden printing stamps in it. • After scrubbing the block, quickly immerse it in fresh water in another container. • Wipe these clean blocks, with a dry cloth and let them in the sunlight to dry completely. After that, please put them in a container and store them.
What is the purpose of Indian wooden printing stamps?
Printing blocks are hand-carved, and they may have minor flaws when used for printing on fabrics or paper. One can use them for things around the house, such as printing pillows and bedsheets. The task necessitates patience in order to create the best print, which adds to the indescribable compassion and elegance of this classic art form.
Today Indian wooden block prints range from classic patterns to innovative styles. In general, the prints represent both the past and the present. An ancient craft, woodblock printing, persists in a parallel realm to the modern world. It's an art form that defies industrialisation. Block printing is still done by hand, without the use of machinery or computers.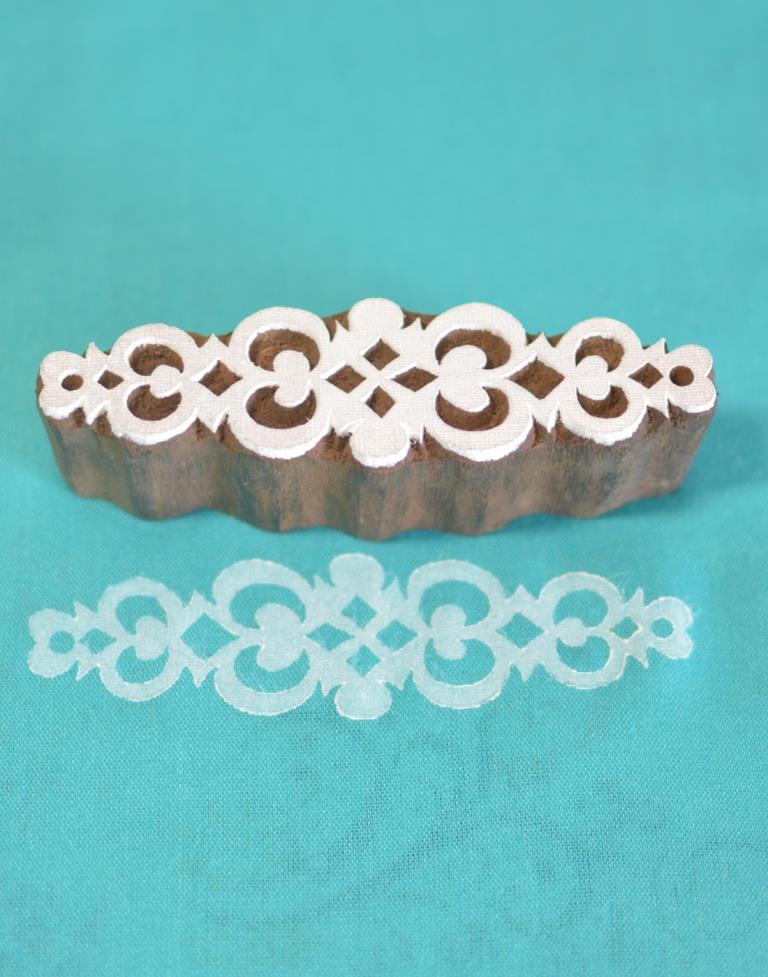 [/vc_toggle][/vc_column][/vc_row]